What is EOSCore::?
EOSCore is a Epic Online Services implementation for Unreal Engine 4, it enables you to use the Epic Online Serivces with Blueprints.
Purchase
Tutorials and Examples
Requirements
EOSCore:: Plugin
Unreal Engine 4.23+
Video Demonstrations
Getting Started
Begin by locating your DefaultEngine.ini config file, this is located in YourProject\Config\DefaultEngine.ini.
You an find your ProductId, SandboxId, DeploymentId, ClientId and your ClientSecret in the EOS Developer Portal. Click here for a brief tutorial where to find these values
DefaultEngine.ini
[Core.Log]
LogEOSSubsystem=Verbose
LogEOSCore=Verbose
LogEOSCorePlatform=Verbose

[EOSCore]
bEnabled=true
bDebugging=true
bAutoLogin=false
bDisableServerAutoLogin=false
ProductId=
SandboxId=
DeploymentId=
ClientId=
ClientSecret=
ProductName=EOSCore Product
ProductVersion=1.0
Enabling P2P connectivity
If you want to enable P2P connectivity, you must enable the EOSCore:: Online Subsystem! To do this, add these values to your DefaultEngine.ini
[OnlineSubsystem]
DefaultPlatformService=EOSCore

[/Script/OnlineSubsystemEOSCore.EOSNetDriver]
NetConnectionClassName="OnlineSubsystemEOSCore.EOSNetConnection"

[/Script/Engine.Engine]
!NetDriverDefinitions=ClearArray
+NetDriverDefinitions=(DefName="GameNetDriver",DriverClassName="OnlineSubsystemEOSCore.EOSNetDriver",DriverClassNameFallback="OnlineSubsystemUtils.IpNetDriver")
Getting Started
After configuring your DefaultEngine.ini you are ready to access EOS functionality! To do this, search for "eoscore" in the blueprint context menu to see all of the nodes available with EOSCore::!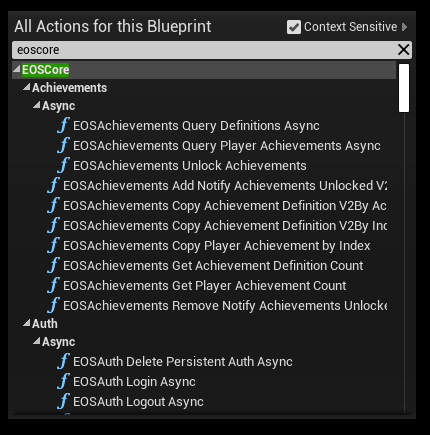 Invoking EOS Functions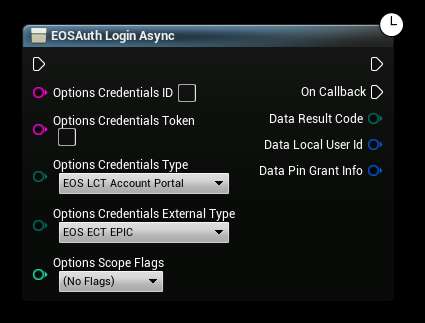 To find out how to work with the EOS SDK you can head over to the Official SDK Website (https://dev.epicgames.com/docs/services/en-US/Interfaces/index.html). You can also download the Example Project down below that includes working blueprint examples!
Example Project
What is currently available in the Example Project
Achievements
Chat
Friends
Leaderboards
Lobbies
Matchmaking Sessions
Sessions
Player Data Storage
Presence
Stats