DefaultEngine.ini
Make sure to customize these settings to your needs
[Core.Log]
LogEOSSubsystem=Verbose

[OnlineSubsystem]
DefaultPlatformService=EOSCore

[/Script/OnlineSubsystemEOSCore.EOSNetDriver]
NetConnectionClassName="OnlineSubsystemEOSCore.EOSNetConnection"

[/Script/Engine.Engine]
!NetDriverDefinitions=ClearArray
+NetDriverDefinitions=(DefName="GameNetDriver",DriverClassName="OnlineSubsystemEOSCore.EOSNetDriver",DriverClassNameFallback="OnlineSubsystemUtils.IpNetDriver")

[EOSCore]
bEnabled=true
bDebugging=true
bAutoLogin=false
ProductId=xxx
SandboxId=xxx
DeploymentId=xxx
ClientId=xxx
ClientSecret=xxx
ProductName=EOSCore Product
ProductVersion=1.0
Hosting a Game
Make sure you are logged in before creating your session, otherwise the subsystem will default to the traditional IP:PORT setup. The EOS Subsystem will automatically store the latest successful login ID and will use this to identify with the EOS P2P Interface.
After loggin in, host your session using console command "open MyLevel?listen" or the blueprint node "Open Level" with the Listen parameter.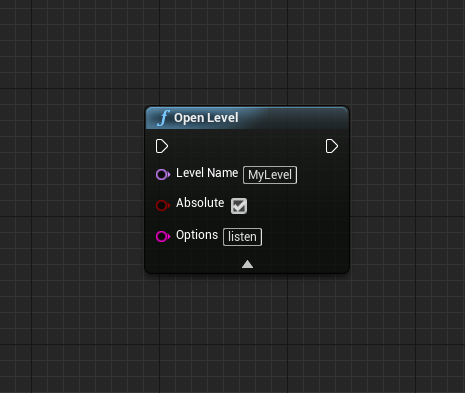 Connecting to a Game
After you've hosted a game server (see above), then issue the console command "open eoscore.some_product_id". Just as if you were connecting to a Steam client, "open steam.steam_id", or an IP address "open IP"
Finding a Game
The Online Subsystem doesn't yet support the default Find Sessions node that are frequently used in Unreal Engine. However, you can setup Lobbies and store the Product ID of the server in the lobby and have clients connect to that.
Lobby Example
Here is an example of storing the "Server Address" in the lobby details so that clients can connect to the server